Cornerstone North location opens June 18th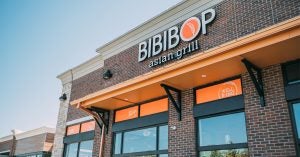 Thursday, June 18th, at 11:00am, BIBIBOP Asian Grill will officially open the doors of their newest location at 5225 Cornerstone North Blvd. in Centerville, Ohio!
Since BIBIBOP is all about well-being, we have made plans to celebrate the opening of our 39th location with delicious bowls, balloons, and games, all from a safe social distance.
First, let's focus on the fun! On Thursday, we'll have games and BIBIBOP prizes (everything from free food to fanny packs) while supplies last. We'll also open up our patio to all the little chalk artists in Centerville! Starting at 5:00pm Thursday, everyone who orders will receive a special coupon that gives them $5 to spend the next time they visit BIBIBOP and $5 to give to a friend, so they can try BIBIBOP! The best deal will be through the BIBIBOP Rewards app. Anyone who scans their BIBIBOP Rewards app at the new Centerville location, or orders online for pickup at the new Centerville location, will get a BOGO bowl offer on Monday. This deal is good ALL WEEKEND LONG, so when you try out the newest BIBIBOP, make sure you use the new BIBIBOP app!
Now let's focus on safety. Because we really care, we want to make sure that your first BIBIBOP experience will be a safe one. On Thursday, you will find bright orange stickers on the floor inside the restaurant to help maintain proper social distancing. Outside, balloons will be your guide to a safe social distance.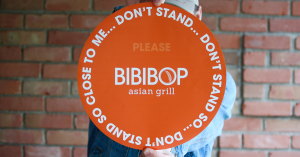 We will also have Social Distance Monitors to keep an eye on things. These monitors, and all BIBIBOP team members will be wearing masks and we recommend them for our guests as well. They are not a requirement, because we will have limited seating available both inside and outside. Those tables will be sanitized between each guest. Online Ordering will be available beginning Thursday, and there will be a dedicated area to pick up orders for a quick and contactless experience.
Centerville, we are EXCITED for this weekend and can't wait to see you!
Again, doors will officially open at 11:00 am on Thursday. After that our regular business hours will be:
Monday – Thursday 10:30 am – 9:00 pm
Friday – Saturday 10:30 am -10:00 pm
Sunday 11:00 am -7:00 pm