Our team loved learning more about our neighbors in Vernon Hill, Illinois. We enjoyed learning so much that we will now choose a few fans each month to be featured in a monthly blog post. If you would like to share your BIBIBOP stories with us, please send us a message on Facebook or Instagram. We'd love to hear how we have improved your meal.
This month, we would like to introduce you to Cynthia. She may be a new face to BIBIBOP, but she is a long-time fan of gluten-free eating. Without further ado.
"Hi! I'm Cynthia, a General Surgery Physician Assistant who loves to explore the Chicago food scene in my free time. A priority of mine, especially going into the New Year, is to make sure my lunches are protein-packed and nutrient dense. I only have a little time in my busy schedule, so I look to places like BiBiBop to provide meals I can easily pick up on my way to work that doesn't compromise quality. I work out at Orangetheory Fitness a few times a week, too, so protein-packed options are essential. I'm about to participate in their 6-week annual "Transformation Challenge," I was pleased to see that some of BiBiBop's ingredients are listed on MyFitnessPal! I also prefer to stick to a plant-based diet during the week (anything goes on the weekends since I like to indulge at new Chicago restaurants regardless of calorie count), so they're vegan-friendly with all fresh ingredients is a huge plus.

My custom bowl starts with Tofu as my protein to keep things plant-based. I love a combination of Purple Rice and Supergreen Salad for my base. I like a mix of hot and cold toppings, so I'll add some Roasted Sesame Broccoli, Bean Sprouts, Carrots, Kimchi, Pickled Red Cabbage (it makes the bowl more vibrant!), and Sesame Kale. Finally, I like a combination of BiBiBop's Yum Yum Sauce (so good!) and Gochujang! And you can't go wrong with Coconut Milk Pudding with Mango! As a healthcare provider, unprocessed ingredients without MSG and with proven health benefits are critical to a healthy lifestyle. BiBiBop makes that affordable is why I'm drawn to them! And being 100% gluten-free on top of it is a bonus 😉"
Would you like to be featured in our next blog post? Send us a DM on social; we'd love to share how you BIBIBOP.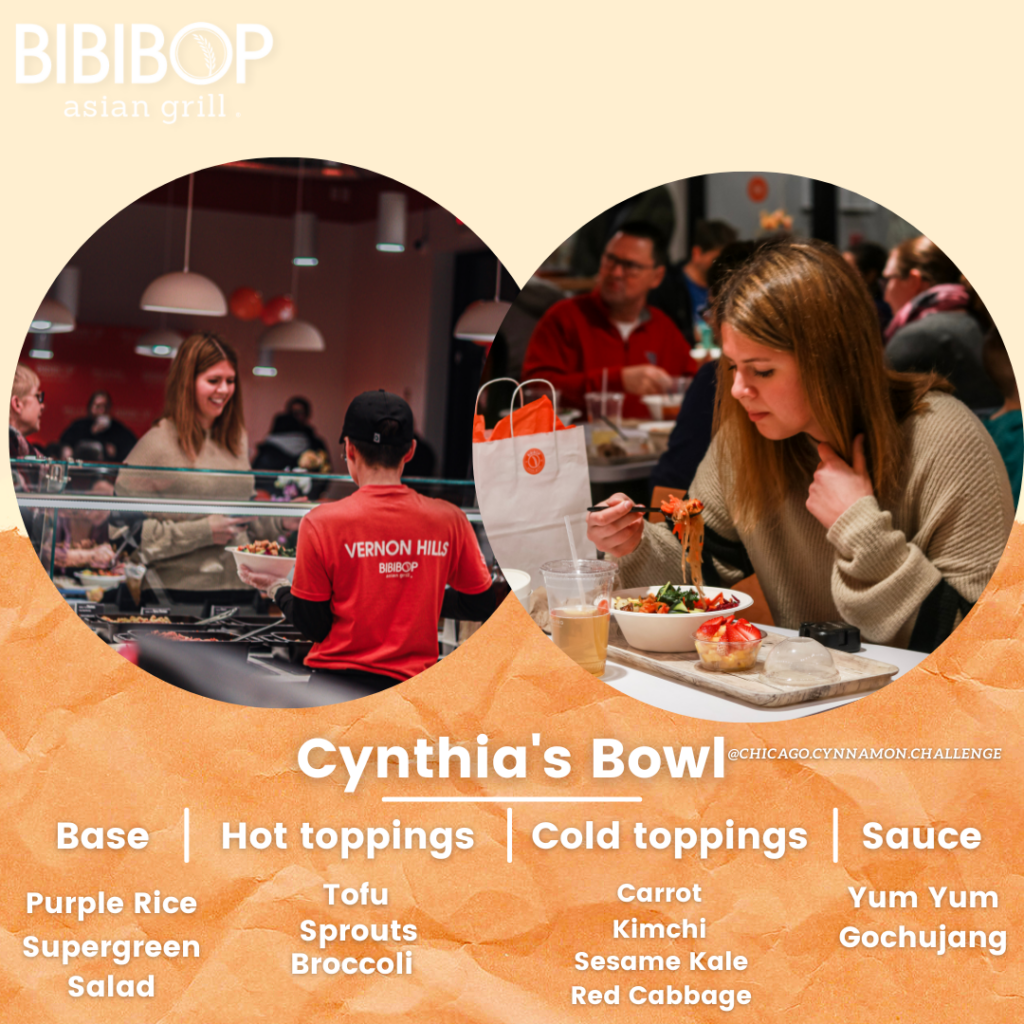 Find us on Facebook or Instagram
Read more on our blog