Available December 22, 2020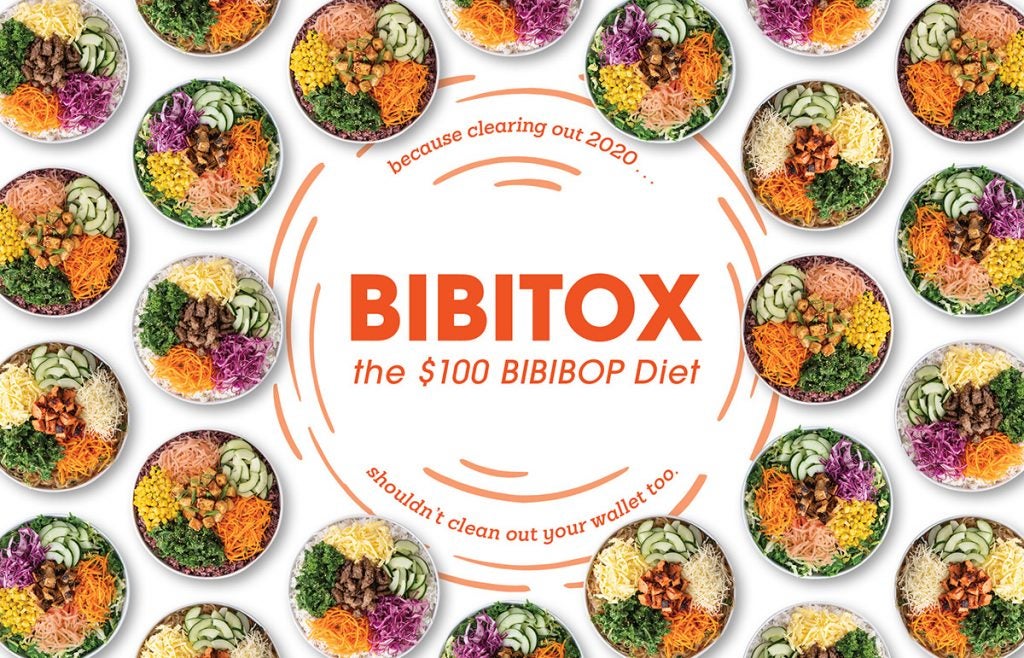 SOLD OUT!
Get a fresh start in 2021 with the brand new BIBITOX!
We believe that well-being can start with a good meal, especially when that meal is filled with fresh & healthy ingredients. You will be able to fuel your well-being with BIBIBOP the entire month of January for only $100 – because clearing out the bad vibes of 2020 shouldn't clean out your wallet too, right?
BIBITOX includes two bowls a day filled with:
• Healthy & affordable Asian food
• Real, unprocessed, high quality ingredients
• Fresh vegetables & lean proteins with proven health benefits
• Vegetarian, Vegan, & Gluten Free diet friendly options
Only 100 of these BIBITOX packages will be available and they will go on sale December 22, at 12:22 pm Eastern/ 9:22 am Pacific for just $100!
SOLD OUT!
Frequently Asked Questions
How many bowls do I get?
You will have the opportunity to redeem up to two bowls per day for the entire month of January. Maximum would be 62 bowls.
How will I get my bowls?
Bowls will be available exclusively through the BIBIBOP Rewards app. Every morning in January, a bowl will be added to your Rewards account for lunch. Three hours after that bowl is redeemed, you will receive another bowl for dinner. Unused bowls expire at the end of the day.
Do I need the BIBIBOP Rewards app to get my bowls?
Yes! Your bowls will be available exclusively through the BIBIBOP Rewards App. You can download the app here.
How do I redeem my bowl?
In-store you can tap REDEEM on your BIBIBOP Rewards app and scan the QR code at the register and access your free bowl. Online, you will order your bowl, add it to the cart, then tap Redeem Available Rewards to redeem your bowl.
So I can order the bowls online?
Yes! You will be able to redeem your bowls when you order online at BIBIBOP.com or through the BIBIBOP Rewards app. You can choose to pick up your bowl at a BIBIBOP location or have it delivered for an additional fee.
Can I use multiple bowls in one order?No. You can only redeem one bowl per order. Can I order multiple BIBITOX packages?
No. Only one per person/ per BIBIBOP Rewards account.
And it only costs $100?
Yu
What about Extra Protein or Premium Toppings, are those included?
No. Any add-ons to your bowl will be an additional charge.
How can I buy a BIBITOX $100 Diet?
On December 22nd, you can purchase one of the 100 available packages here.